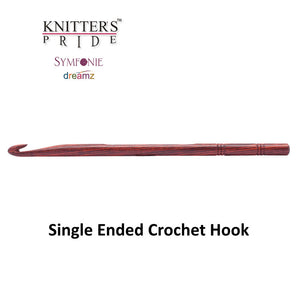 Knitter's Pride Dreamz Crochet Hooks - designed by people who know and understand the art of crochet, Knitter's Pride Dreamz Crochet Hooks are hand crafted by skilled artisans out of lightweight and strong wood polished to perfection to insure an effortless stitch glide, but with strategically placed grooves to prevent unwanted stitch slippage. Dreamz hooks are made in a palette of beautiful colors making hook sizes easy to identify and organize. Warm to the touch and gentle in the hand, Dreamz Crochet Hooks enable hours of enjoyable and comfortable crochet for everyone and are a perfect choice for arthritic hands.
Dreamz Crochet Hooks Size and Color Chart:
E/4 3.5mm - Aquamarine
F/5 3.75mm - Orange Lily
G/6 4.0mm - Fuschia Fan
 7   4.5mm - Grey Onyx
H/8 5.0mm - Cherry Blossom
I/9 5.5mm - Misty Green
J/10 6.0mm - Candy Pink
K/10.5 6.5mm - Purple Passion
L/11 8.0mm - Royale Blue
M/13 9.0mm - Fuschia Fan
N/15 10.0mm - Aquamarine
   12.0mm  - Burgundy Rose
Warm to the touch and easy on the hands, lightweight, strong, and beautifully hand crafted wood crochet hooks from Knitter's Pride.
Material
Wood
Manufacturer Page:
Knitter's Pride Dreamz Crochet Hooks